This ifrpfile All in One tool allows you to bypass iCloud 13 & 14.8.1 by using a single iCloud containing all iFrp files.
The iCloud lock on iPhone and iPad devices can be unlocked with this tool if your iPhone is stuck on the iCloud home screen.
Activation Lock, uninstall iCloud, and locate your iPhone and iPad using a free USB cable are required to obtain the latest version of iFrpfile All In One Tool AIO V2.8.5.
You can uninstall iCloud lock on iPad and iPhones from Windows computers using this program.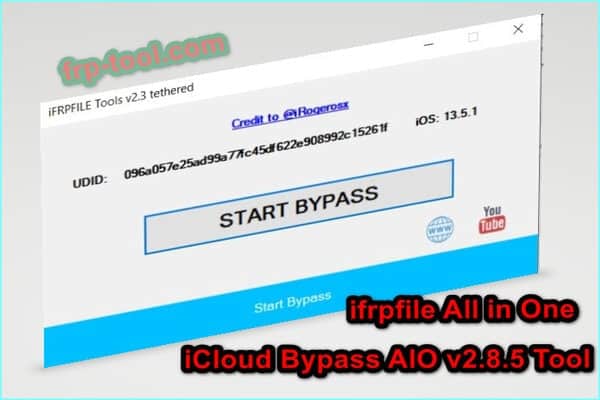 iFrpfile All In One, what is it?
You may end up in this situation if you buy a used device with an iCloud Activation lock that the previous owner did not remove.
Many owners of used iPhones are probably concerned about the iCloud Activation Lock. You may be able to purchase the device from the previous owner if you are not in contact with him.
With this tool, the previous owner of the device can unlock iCloud Activation Lock without having to contact them.
Download ifrpfile All in One
Mirror Link ifrpfile All in One V2.85
How does iFrpfile All In One AIO v2.8.5 work?
There is a patch for iOS 14.8, which eliminates untethered use (Apple has fixed the Albert server activation issue).
There are only free options available. It is untethered (no notification, no iCloud service,
Reboot the device, patch the battery drain, or do not delete the baseband to fix the untethered iCloud Hello screen.
The following actions can be performed: Disabled devices, Untethered bypass of the passcode, and restarting iCloud without receiving a facetime PIN SIM, iMessage, or Siri notification.   It allows you to circumvent the passcode.
You can also read more:
Read more: msm download tool crack
Read more: ultimate multi tool crack
AIO Update Tool Features:
 It bypasses the bug fix.
Apple Finder should be updated to have a Passcode/Disabled/Lost Device Finder.
The repair notice for iCloud, Facetime, and iMessage has been bypassed (no signal).
 After bypassing the password, make sure all functions are working.
You can convert backup files from another program (bypassing passwords).
 When you've changed the password of your iCloud account, you can access your brand new account. Make sure you correct any hidden issues if any.
 iBanking applications on iPhones should be fixed.
Supported Devices:
---
iPhone SE/5/6/6S/7/7+/8/8 +/X
iPhone X
iPhone 8 Plus
iPhone 7 Plus
iPhone 7
iPhone 6S
iPhone 6
 iPad Mini 4
 iPad Pro 9.7
iPad 10.5 Pro etc.
Limitations
---
No carrier.
No Facetime.
iMessage is not fixed.
 No iTunes.
Fixed Internet connection – 4G/3G
 Screenshot Fixed.
Mobile Data Fix.
The new ID can't be used.
No Sim Card.
Calling impossible
iFrpfile you can free your Apple devices from iCloud activation lock by simply using the app.
This app can help you bypass the iPhone, iPad, and other mobile device activation lock, provided you deactivate your iPhone jailbreak.
What is the iCloud lock?
Since iOS 7.0, a feature known as the iCloud lock, Apple has introduced a very helpful Find My iPhone feature that has become even more useful.
You will need to enter your iCloud password to reactivate your iPhone if it is stolen or misplaced and remotely erased with Find My iPhone.
In many cases, theft of stolen phones will be reduced to a bare minimum due to this innovation.
Because the phone is not entirely functional, the burglar cannot use or sell it.
Moreover, it's locked, which should warn prospective buyers that the deal is not fair.
Is it possible to remove the iCloud lock with a factory reset?
It can be forced into recovery mode using iTunes and restored to its original state.
Nevertheless, you will not be able to activate or utilize the device without the password to the AppleID currently connected to iCloud.
If you erase a device, the activation lock will not be removed.
Is it easy to jailbreak an iPhone?
Jailbreaking an iPhone has become very easy today. After installing Cydia Impactor or Xcode on your iPhone, you open the jailbreak program, press Jailbreak, and reboot your iPhone.
Jailbreaking: What is it?
Those who have jailbroken their iOS devices do so to remove restrictions from iOS and gain access to their file system. Using unsigned code and jailbroken software does not entitle you to certification by Apple. Jailbreaking allows users to gain access to many functions on iOS.
It lets users customize their device's appearance and functionality by installing jailbroken applications, modifications, and themes.
A typical jailbreak procedure involves installing an unofficial application to facilitate the installation of jailbreak applications, themes, and modifications.
Apps, tweaks, themes, and extensions for jailbroken devices can be found on Cydia, one of the most popular App Stores on the Internet.
Can run iFrpfile All In One Tool which device?
To use iFrpfile All In One, download the software and install it on your computer. Below is a list of the devices you can use the tool with.
Supported Platform:
Windows XP, Windows 7, Windows 8, Windows 10, Windows 11, MAC.
The device can be installed on your computer if one of those operating systems is already present. To install the device, you must follow the steps below.
Does the iFrpfile All In One AIO V2.8.5 tool for iPhones have a free download option?
GSM MEID provides the tool, and you are not charged anything for using it on your PC.
Purchasing in-app features or eliminating advertising does not require an upfront purchase.
The show is also free and clean with no advertisements.
How dangerous is using the iFrpfile tool on a PC/ Laptop?
The iFrpfile All In One software is completely secure for PCs, laptops, desktops, and mobile devices.
Users of all ages can use this software, as it contains no harmful code.
Does the iFrpfile All In One get updated frequently?
IFRPFile does not maintain an updated schedule for the iFrpfile All In One. Updates are provided at GSM/MEID's discretion to address performance or functional problems.