Samsung got a large portion of the market share, and comparably more of the users of this particular brand are around the world. Since the company is trying to cope with competition, the phones are coming with tight security.
It is needless to mention the security measurements are for user concern, but in many cases, users get trapped in those, for instance, locked FRP.
To solve the similar problems of Android and so-called Samsung phones, I always do prefer using the Samsung FRP Tool. No hack or crack risk is there. You can get access to your phone or tablets without spending a single penny anymore.
What is Samsung Frp Tool / FRP Unlock Samsung Device?
samsung frp tool, samsung frp bypass tool, frp bypass tool samsung, frp bypass samsung, samsung frp bypass tool pc dmrepairtech, samsung frp unlock tool, free frp bypass samsung, download top samsung frp tools, samsung frp tools, samsung frp, frp tools samsung, samsung frp bypass download, frp unlock tool samsung, download samsung frp bypass tool,
How to Samsung Device Bypass FRP Unlock With apps?
For instance, you have just signed in with your Google account on your Android device. And then, for any reason, you are required to do a complete phone reset. After resetting, your device is going to ask you to sign in with the same Google account again, which you have put in before.
Now, let's say, you have forgotten your email ID and password. If you are hung up with a situation like this, it does not mean you have to throw away your beloved Android phone. What you can do here, that is, I am going to show you.
So, at first, you have asked to connect to your Wi-fi, and choose your language besides, the ID and password. The security feature is a part of the Android 5.1 Lollipop. Here, I would recommend you to use the Google keyboard layout if your version has started with any other keyboard layout.
To do that, simply hit and hold the spacebar on the keyboard, and then a popup window with a selection option is going to appear. Next, type the password and connect the phone with wi-fi.
After connecting with the internet, now you are supposed to be on the signing page. Tap on the box to appear on the keyboard when the keyboard appears tap and hold the @ key. After that, you are going to see the setting icon. So, click on that.
Mirror link→ Fast unlocker FRP bypass apk
Inside there, you are going to see three dots in the upper-right corner, which represent further options. You are going to see two options after clicking on the dot icon, About Google Keyboard and Help & feedback. Click on the second.
On the new page, click on the first tab for now. There, you need to select anything you want, for example, any word. After selecting, you need to click on the Web search option that is supposed to appear in the upper right corner of the screen.
And then, open it via the Google app. It is going to show you all the related search results. Now, tap on the search box and type "setting." The search result is going to appear with the System Settings button.
Hit the setting icon so that you can hop into the other options. Inside there, you need to head over to Backup and Reset. There you have to click on the Factory data reset. Then, click on the Erase everything.
Remember, by doing this action, you are going to delete all of the data that is available on your phone or tab. But to get access to your phone again, this compromise is necessary.
Up next, you are going to see the phone has started resetting your phone. Depending on the android version and CPU of your phone, the process can take 5 to 10 minutes.
After that, you are going to see the sign-up or login page again. But now, there is no need to type a synced email and password. Type the one that you want to. That is how you can bypass the Google FRP lock.
2 › how to use Samsung FRP helper? Guideline 
Mirror link→ Samsung FRP helper v0.2 download
Mirror link→ Samsung FRP Tool Download
samsung frp remove tools, samsung frp removal tool, bypass frp samsung, frp tool for samsung, download samsung frp tools, samsung frp bypass file, frp lock removal tool samsung, samsung frp tool download, frp bypass tool for pc dm, frp samsung, samsung frp tool download for pc, frp unlock samsung, samsung frp bypass without pc, samsung frp bypass tool for pc free download, frp tool samsung,
Samsung FRP Unlock Tool Download Free
If you are not a fan of that load of work and searching for the FRP bypass tool Samsung that is specialized in this particular model, then download the tool given below. The HIJacker tool by hazard is truly a masterpiece to solve this sort of problem.
Samsung FRP tool download free
Step 1: Turn off Anti-virus
Don't be bothered about the installation because it is way easier and more secure. Before starting installation, make sure you have turned off all of the security measures on your computer like anti-virus or any other similar stuff. Otherwise, that is going to interrupt the installation process.
Step 2: Extract Samsung FRP Unlock Tool
If you have opened the downloaded file already, you might have found that this software is given in a zipped form to secure and avoid the corruption of the file.
So, extracting the file is going to be necessary in order to start the installation. Simply follow the universal way to extract the file, mouse right-clicks>Extract Here/the file you want. That is all.
Step 3: Installing the Samsung FRP bypass tool
Click on the tool.exe file from the extracted folder by right-clicking on it and selecting Run as administrator. Do some next on every window. On one of them, you might be asked for a password.
So, go to the unzipped folder again, and open the password text file that is given there. Now, copy the secret code from there and paste it in the required section. And then, click on Next to complete the installation.
How to Use Samsung Tool Pro to Reset FRP
If you have downloaded it successfully, then let's figure out how to use the Samsung FRP tool. Just like the earlier steps, the using process of this tool is also going to be easy as well. Open the software by clicking on the desktop icon.
On the launch window of the Samsung FRP tool for pc, you have to choose your phone model. Here, I am using the J7 model by Samsung. So, open the drop-down menu and pick yours.
After that, you should connect your phone with a USB cable to the computer. And then, click on the Scan button that is located in the upper-right of the window of the Samsung j7 FRP lock remove tool.
The first window is going to reload a bit and drive you to a new window where you have to click on Factory Reset. Now keep yourself in a while of patient because the process is going to take a few moments.
Later, you are going to see your phone has completed the reset successfully. Now, you just need to sign in or up to get access to your device. And my dear, that is actually all to start exploring your phone again.
3 › Samsung Service Tool Features 2021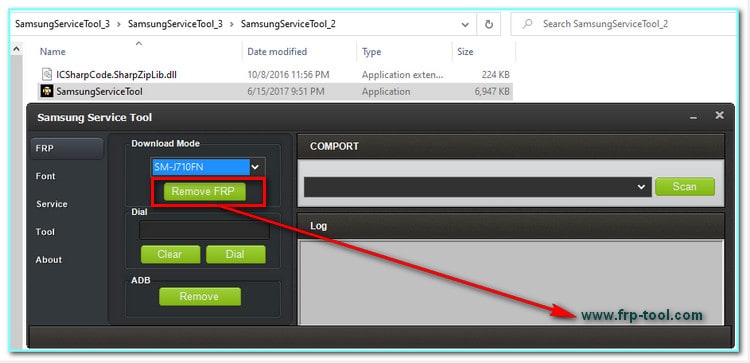 Samsung Service Tool V1.0 Click Download Button
frp samsung bypass, samsung frp unlock tool download, top samsung frp tools, samsung frp unlock, frp bypass tool dm, samsung a20 frp unlock tool download, bypass samsung frp, how to bypass frp lock on samsung, google bypass samsung, samsung bypass, remove frp lock samsung, unlock frp samsung, samsung unlocker tools, frp bypass samsung without pc, samsung account remove tool, samsung a10 frp bypass tool, samsung frp removal, samsung bypass frp, samsung frp lock, frp lock samsung bypass, samsung unlock tool, bypass google account samsung with pc, samsung unlocking tools, bypass samsung, samsung google bypass, samsung tools, samsung factory reset tool, how to remove frp lock on samsung, how to bypass google verification on samsung, bypass frp with pc, bypass google verification on samsung, frp lock samsung, bypass google lock samsung.
Final Thought
Since Samsung FRP Tool is going to solve your FRP, lock, and pattern mistake-related problems all at once, you do not need to go to any service center anymore. So, from now, you can do more savings in your pockets and fewer unnecessary expenses.
Before signing off, I would like to know if there is any problem you are facing regarding execution though you don't suppose to have one. Fill the feedback box below with your buzz, till then take care.