Ever since we stepped into this smartphone era, the gaming experience has become out of the world comparing the childhood memories of Game Boy Advance. But it gives you a nostalgic feeling to get back there again. Thanks to Riley Testut, developer of the GBA4ios emulator download, for making it easier for us.
Yes, now you can play those favorite console games on your iOS device without buying new console systems or game cartridges! Most importantly, you don't need to jailbreak your iPhone or iPad to play retro games with the GBA emulator.
You can also purchase additional features and plugins to customize the experience. The emulator is fast, easy to use, and perfect for any gamer looking for a sentimental trip down memory lane.
I'll share how to download GBA4iOS free on your iPhone or iPad in this post. So, if you're a fan of classic games but don't want to spend on a gaming console, be sure to check out this GBA4iOS guide!
Introduction: What Is A GBA Emulator?
GBA4iOS is the first emulator allowing you to play GBA games on different iOS devices. The GBA emulator is a great way to relive your childhood memories of playing classic games on your iPhone or iPad.
It's developed to support more than 1000 games, and it's free to download. The emulator also supports 3D graphics and multiplayer features.
GBA4iOS 2.0 Emulator Features:
Recently, the 2nd version of the GBA emulator for iOS has been released with some outstanding features demonstrated below.
A New Version With Old Power
The GBA4iOS 2.0 app looks much better than before, with a new look and design. Unlike the previous version, the second version is compatible with iOS 7and the higher operating system of Apple devices.
2.0 not only looks different from its predecessor, but it also features a diverse collection of features, including controller vibration, the Sustain Buttons, event distribution, and the capability to play games with external audio. In addition, 2.0 has an outstanding touch-screen control experience.
Emulator App Offers Cheaters An Unfair Advantage
Some hardcore gamers might argue about using cheat codes. But who do you care if you want to explore fun gameplay! It lets you access 5 models of cheats on hundreds of Game Boy ROMs.
Support Both GBA and Game Boy Color Games
As requested by many Nintendo fans, now this GBA emulator supports both Game Boy Advance and Game Boy Color's popular game ROMs. You would never feel left alone again.
GBA4iOS 2.0's layout library contains several different controller skins to choose from, giving you the same feel of playing with a connected controller. Different skins for different video games are a rare customization option for GBA games
How to Download GBA4iOS Emulator App On iPhone
There're different versions of GBA4iOS for iOS 6, 7, and 8. You can choose the one that's compatible with your device.
Make sure to do this trick before downloading the iOS app emulator. Go to the Date and Time section from the GeneralPhone Settings app. Then change the date to one day before.
Note: If you find any issues using the GBA emulator on an iOS device, do the above step again. And then install the emulator app again.
Unfortunately, if you're using iOS 8.1 or the later version, you need to pay for this app. To download an alternative GBA emulator for iOS, visit BuildStore. Sign up on the store and type on the search bar with the emulator title or go to the section directly from the toolbar. You'll find other paid game engines or emulators there.
How to Install GBA4iOS FromTopStore
TopStore is one of the safe platforms to get iOS apps. If for any reason, you can't download the emulator above link, you can find it here on TopStore.Before that, download the app store on your phone from the below link.
If you face any difficulty downloading and installing the GBA4iOS emulator on your iOS device, please refer to the following steps.
Step 1:
Open the latest versionTopStore and search with GBA4iOS.
Step 2:
Tap on the Install button from the app profile page.
Step 3:
A dialog box will come up asking for your confirmation for allowing TopStore to install GBA4iOS on your iOS device. Please tap on the 'Install' button to proceed with the installation process.
Step 4:
When the installation is finished, don't tap the app icon. Go to the "Profile and Device Management" and allow permission to access this app.
Step 5:
Open the installed file from the app menu shortcuts to run it.
How To Install GBA4iOS Using Ignition App
Follow the step-by-step instruction to install the GBA emulator from the Ignition app store.
Step 1:
Click on this link to visit Ignition.fun. Download the app on your apple device.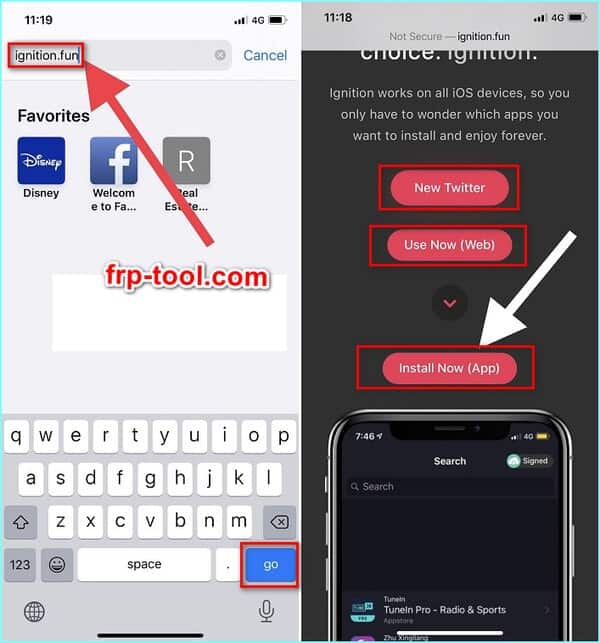 Step 2:
Afterward, launch the app platform. On the tab section, you can see the Emulator section. Click on it. And there, you can find all the emulators available in this store.
Step 3:
Pick the GameBoyAdvance emulator and hit the "Get" button to install the emu app. Wait for the app to finish the installation.
How to Install GBA4iOS FromAltStore
It's a cross-platform alternative iOS app store for both your iPhone and
Mac. Without jailbreak, you can download and install any app from the platform, including the emulator.
Step 1:
Download AltStore from here.
Step 2:
Launch AltStore on your iOS device (iPhone/iPad). Click on the '+' symbol at the top right-hand side of the home screen.
Step 3:
Now you should be able to see all the apps downloaded on your device. Search for the GBA 4 ios emulator and tap on it.
Step 4:
Enter your iCloud ID and password if you haven't used AltStore before. Wait for the installation process to complete. Once installed, launch the emulator app.
How To DownloadGames On GBA4iOS
There are two ways that you can install ROM files on GBA4iOS. You can get it on the emulator store and the other from external online sources. GBA4iOS can load games of Gameboy, Gameboy Advance, and Gameboy Color games.
ROM files are actually the game files on the GBA emulators. You can download ROMs or games in two ways – downloading from reliable online websites/archives or the GBA store.
The best sites to download GBA4iOS ROMs on iPhone/iPad /MACOSare:
Visit any of the above ROM websites to download GBA games. Then tap on the search button and type the Game ROM names and download your preferred file.
After downloading, go to the download directory on your iOS device and tap on that. Then choose "Open with GBA4iOS." This'll open the ROM with the emulator.
How to Delete GBA4iOS
To delete or uninstall GBA emulators from Apple mobile devices, press and hold the app icon and click on the cross icon or uninstall button.
But some may find issues with uninstalling the app on iPhone. It's nothing but the bug of this software that doesn't you to deleing the emulator.
Try changing the Date and Time app settings to past date or if it's already in past date, then change it to present date. And then try to uninstall the emulator app.
What Are The Alternative Emulators of the GBAiOS Emulator?
You can try some other emulators if GBAiOS doesn't support your iPhone.Check out top GBA game control emulators that support iOS devices:
Delta Emulator: is a cross-platform emulator for playing super Nintendo game collections on Apple iTunes devices.
Happy Chick: The cross-platform emulator has a huge library of your favorite games and apps that you can enjoy on your iPhone and iPad.
PlayStation Portable Emulator: Try this emulator if you want to play PlayStation games on an iOS device.
NDS4iOS: For jailbroken iOS devices, the Nintendo DS emulator is the best emulator to run unlimited games.
Provenance Emulator: Whether you're looking to play Atari, Sony systems, or Saga games on your iPhone, there's no alternative to Provenance.
FAQs
How To Play GBA Games On iPhone?
To play GBA4iOS games on iPhone, launch the app first. Then choose any emulator game that you want to play from the store. Tap on the game to open and enjoy the classic gaming experience.
How To Get Emulator On iPhone?
You can download emulators for iPhone from some trustworthy open platforms or alternative app stores likeTweakboxapp, and Ignition. fun, etc. These are free platforms. You can also try premium alternative app stores like BuildStore.
Is GBA Emulator Available Works On iOS 14?
The recent version of the GBA emulator is also compatible with iOS 14 and 15. However, the previous version doesn't support anything above iOS 7.
Editor's Verdict
Though multiple emulators are available to play those heroic childhood games on your iPhone, nothing is comparable with the GBA4iOS emulator.It just blew my mind after the latest version of the GBA4iOSemulator iOS 15 was released.
Everything I was expecting in the previous version is now there in it. Besides, the dev team is continuing with regular updates.I'm excited to learn about your favorite GBA games. Buzz me in the commend box after trying it.GG!